While comfort, benefits and popularity of modern uPVC windows are obvious and unquestionable in today's market, there is definitely one thing uPVC windows can't provide – they cannot replace naturally warm appearance of real wood. So if you are among those homeowners who appreciate this particular feature and thinks it is one of the essential requirements, than you should consider installing aluminum clad wood windows in your house.
Structure of an aluminum clad wood window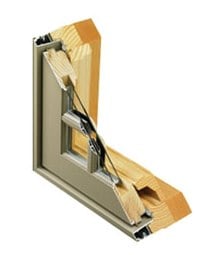 Wood window with aluminum clad consists of a wooden window sash and frame covered on the outside with strong and durable extruded aluminum material. This aluminum profile slides onto the wood and is independently secured in such a way that it allows both wood and aluminum to expand and contract without any interference.
Speaking about the wood material, it is necessary to mention that the most typical wood species used to make these window frames are solid hem and fir since those species are best known for a combination of strength and elegance.
The aluminum exterior is very robust and low maintenance, it will not require any paint job from you at all. It has a premium quality powder coating which makes it highly resistance to weather influence and gives a better longevity.
As you probably can imagine, extruded aluminum profiles offer excellent structural stability and capability to withstand the harshest weather, successfully combating air and water infiltration.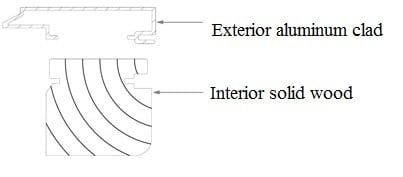 Structural stability of these windows is achieved through pressure fitting assembly of all components which are then secured with screws, staples, mortise and tenon joints on the sash and rabbet joints on the frame.
An important detail is that aluminum clad wood windows are constructed with a heavy duty vinyl liner which has a purpose of preventing water accumulation diverting it from the wood to the exterior; also frames and sashes of these windows have drip edges.
Aluminum and wood surfaces have a seal barrier between them.
Operating windows such as casements and awnings are sealed with a heavy duty compression foam which provides a higher level of energy efficiency.
Design Versatility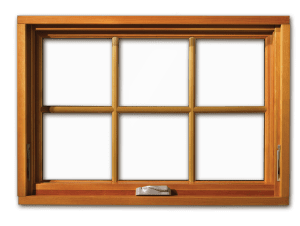 Wood windows with extruded aluminum on the exterior have outstanding technical and performance properties as well as provide with great flexibility in design opportunities.
Also, one of the most appealing characteristics of the aluminum is that as a metal it offers a perfect foundation to apply premium baked-on polyester
finish which can be factory painted in virtually any colour of your choice, thus ensuring your new windows will blend in perfectly well into the overall exterior design of your residence.
Wood window interiors can be painted or stained to match existing wood trims or any other interior accents.
For that reason aluminum clad wood windows are highly appreciated and recommended by designers and architects.
 Cost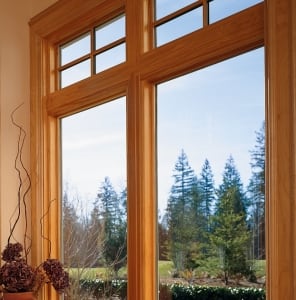 Aluminum clad wood windows in general will cost you more than uPVC windows. You have to decide whether or not you are ready to go for this extra investment.
Aluminum clad wood windows have a longer lifespan than vinyl and offer better and more versatile design options, especially valuable in traditional style homes. However, if you have a contemporary style home you may be better off with custom upvc windows.
Anyways, make sure to check if the company offers different product lines for various budgets.
Summary
These windows will dress up your home, enhance it and make it stand out. Once the curb appeal goes up, so does the value.
You will enjoy the appearance of wood without its full maintenance since it is protected by heavy duty weather resistant aluminum cladding, which is especially relevant if you have a lakefront property. When paired with Low E & Argon gas double glazing, aluminum cladding makes your home even more energy efficient.
Custom made aluminum clad wood windows will add to the elegant interior design of your room making it look warm and cozy while efficiently protecting your home from the elements keeping it well insulated and comfortable.
With all the questions do not hesitate to ask for a free expert advice. Professional consultants will be glad to answer all your questions and recommend the product which will be the best for you and will meet all you performance, architectural and budget requirements. Be sure to ask about current promotional pricing, so you can benefit from a good deal and save money on the windows you want to purchase.