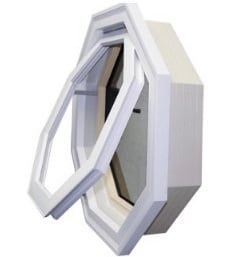 Most popular special shape windows
We are all used to see rectangle and regular shape windows in buildings around us, but did you know that modern UPVC windows in fact come in a wide array of custom shapes ?
Generally speaking a window can exist in virtually any shape. The shape can make a bold design statement and add to the curb appeal of the house, but at the same time it can also be highly functional.
Let's take a look at some other popular custom shape windows which can be seen around and find out what their typical application is.
Circle shape windows
They can be tiny or huge, depending on their purpose, whether it is a part of design or a real functional window. They remind of illuminator windows of a plane and the larger their size is the more futuristic appearance they create.
Octagon shape windows
An octagon window has eight edges and angles. It can be a fixed casement but usually it is hinged at the top for a venting option. Also it can be with or without grills depending on the aesthetic requirements.
Hexagon shape windows
A hexagon window is similar in function to an octagon one, but may be slightly less popular. I has six edges and angles and reminds of a honeycomb. It can sometimes be installed in the attic.
Both hexagon and octagon can have shape variations and be either equilateral or have extended top and bottom sides.
Windows of a diamond shape are probably less common than the types described above, but can be quite nice decorative accents to one's abode.
Triangle shape windows
Trinagle shaped windows can often be seen on the upper floor space on those homes which have triangle shaped roofs – they blend in perfectly and complement the design. Such windows can feature equilateral, isosceles, or even an irregular triangle. Also, a triangle shape can be combined with a regular rectangle window forming a pointy top transom.
In contemporary architectural world there are lots of homes which are built in a popular modern style and very often they demonstrate unconventional geometry when it comes to windows. Triangle windows can create a great futuristic look in such homes.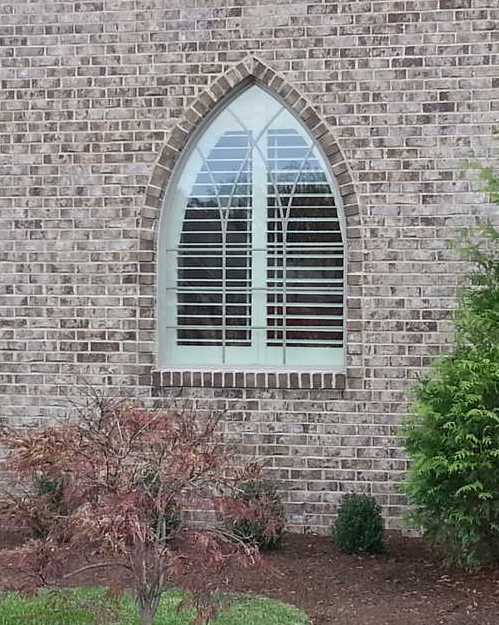 Cathedral windows
Cathedral windows were very popular in the church architecture of the 12th -16th centuries. Lots of historic buildings demonstrate cathedral windows. Nowadays, homeowners choose to install cathedral windows in their classic houses.
Arched top windows
Windows with arched and curved tops will look especially elegant and graceful and will add a soft classic touch to both exterior and interior of your home. They are so versatile and provide practically endless design opportunities, that is why they are so popular among homeowners and never go out of style.
There are different variations of arched top windows, depending on the radius size there may be formed a circular or elliptical top line, with or without curvy ends.
Half-moon ,or half-circle windows, are a very popular window style, their most common application is to be installed above a regular rectangle or square shape window as a fixed transom. Usually such transoms have decorative grills which add even more richness to the overall architectural style.
Also, half-moon windows can be installed as separate operating windows. In this case, depending on the size, they can consist of an operated casement window in the middle and a fixed casement on each side of it. If the radius permits, there can be a sliding window in the middle.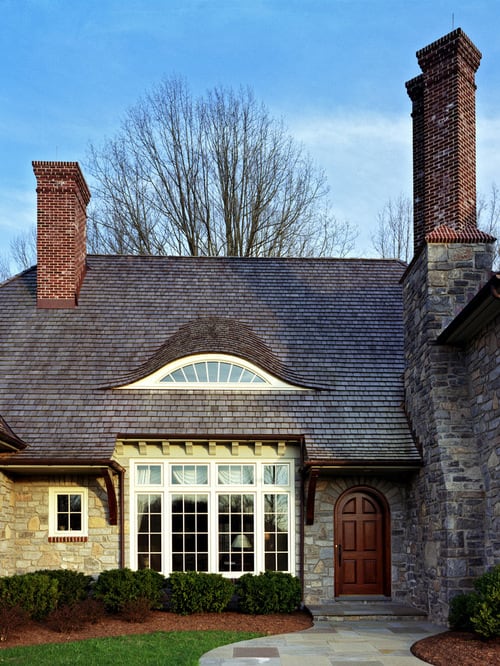 Eyebrow windows
Eyebrow windows work as a solution when you need to add more light to your top floor space. Originally these windows appeared on the medieval roofs and became very popular during the Shingle style architecture of the 19th century. Today they still remain popular and new architectural developments bring new transformations and uses of this old style window. Also, eyebrow windows add to the value of the house.
If you are thinking your house may benefit from a custom shape window you should consult a professional designer and after talk to a knowledgeable consultant from a reputable window replacement company. Northview Windows & Doors has a long experience in providing its customers with windows of all shapes and sorts. Do not hesitate to contact Northview's specialist for your free professional advice!