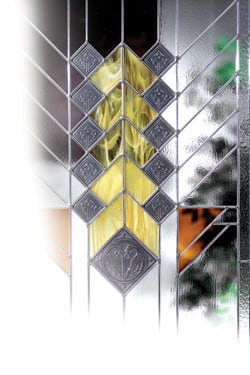 Decorative and Stained Glass Inserts
Stained Glass Inserts are a decorative glass product that brings the warmth and beauty of stained glass into your home while providing versatility and safety. Panels incorporating stained and textured art glass can be a wonderful alternative to solid panels in any door.
Stained Glass Inserts in door frames can add tremendous character to any home. When backlit by the sunlight from outside, they fill the room with warm vibrant colors.
Northview Windows and Doors offers dozens of different stained glass insert designs that can be customized to meet the tastes of any homeowner.
Fully custom designs may also possible, working from any design style or theme and incorporating colors and design elements limited only by your imagination.
More Information
To request more information on our Decorative Stained Glass and other Glass Decor options, or for purchasing information on any of our windows and door products, please fill out the Quote Request Form, or contact us.