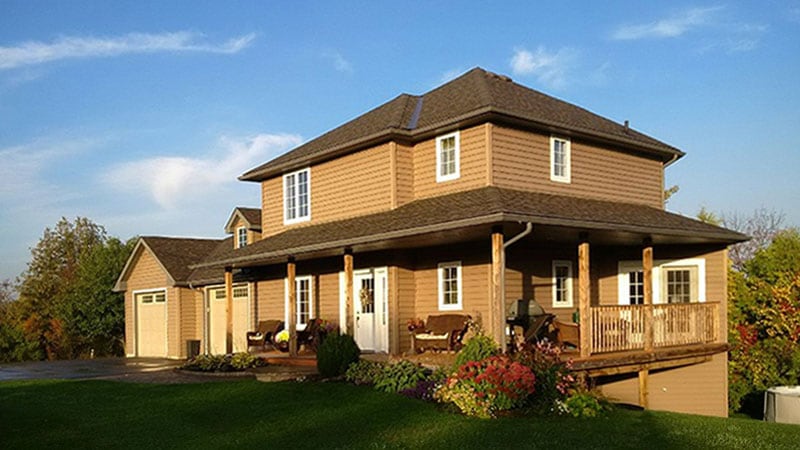 At Northview we are continually updating our products to satisfy our customer's home improvement needs. That is why we now offer a great selection of siding, soffit and fascia and rainware products.
Siding
Siding is a top exterior design choice for many homeowners and builders. This leading cladding material instantly boosts curb appeal and provides an excellent value.
Our siding material is available in hundreds of colours, and a large selection of profiles, shapes, textures.
It offers incredible aesthetic and performance benefits:
– design variety to suit any architectural style
– never requires painting or caulking
– needs only minimal maintenance such as cleaning with a garden hose
– resistance to the elements (never absorbs water and can withstand hurricane force wind speeds)
– resistance to fading (the colour is inside the product, not on the surface, therefore it won't peel or fade)
– resistance to insects
– affordable price
Soffit & Fascia
Soffit and fascia are important elements of the house structure. Their function is to provide proper ventilation and to ensure the air circulates through the eaves and rafters of the house to reduce excessive moisture which can cause decay of roof.
Our soffit systems are designed to enhance the appearance of your home. They have great aesthetics with crisp and clean lines and come in a variety of colours and textures. Depending on the desired design effect, you may choose the colour which will either match or contrast with your siding.
The soffit systems offered by Northview are watertight, weather resistant and virtually maintenance free – they will never need painting, and will not rot, peel, flake, chip or blister. Designed for durability and high performance, they will add a perfect touch to your renovation project.
Rainware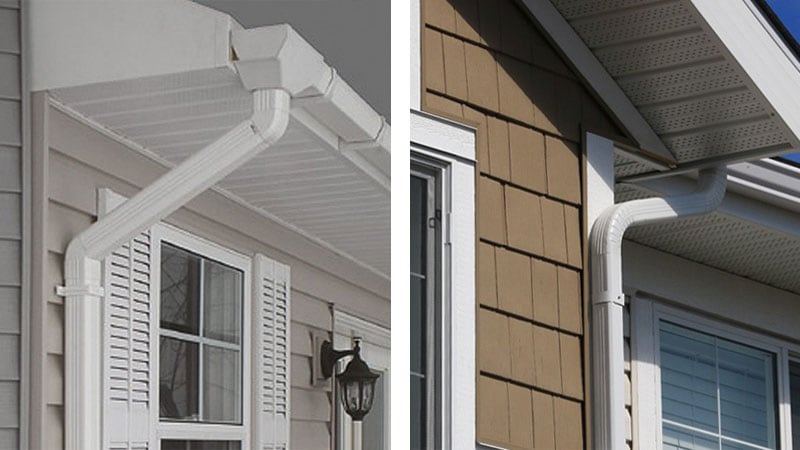 To protect the roof of your house from damage caused by accumulation of rain water or melted snow, it is essential to have a functional rainware system installed. All water which is running down the roof gets collected in the eavestrough, or gutter. Eavestrough surrounds the perimeter of your house and guides the water away and out from your house through the downspout pipe to the ground.
At Northview we will offer you effective and attractive rain carrying systems. Our eavestroughs are made from high quality, corrosion resistant material which won't rust or warp and has a durable peel and blister resistant finish to ensure maintenance‐free long lasting performance.
Our eavestrough systems can be selected to match and complement your siding appearance, and your house will have a beautiful finishing touch and an all‐season protection.
Info Request
If you have questions about our windows or any other product, please call us or fill out the form below.
[[[["field22","equal_to","Single"]],[["show_fields","field15"]],"and"],[[["field22","equal_to","single+1 panel sidelite"]],[["show_fields","field16"]],"and"],[[["field22","equal_to","single+2 panel sidelite"]],[["show_fields","field17"]],"and"],[[["field22","equal_to","Double"]],[["show_fields","field18"]],"and"],[[["field35","equal_to","Choose a Custom Paint"]],[["show_fields","field33"]],"and"],[[["field35","equal_to","Choose a Custom Stain"]],[["show_fields","field34"]],"and"],[[["field22","equal_to","single+1 full glass sidelite"]],[["show_fields","field36"]],"and"],[[["field22","equal_to","single+2 full glass sidelites"]],[["show_fields","field37"]],"and"]]