Architec Series – AR12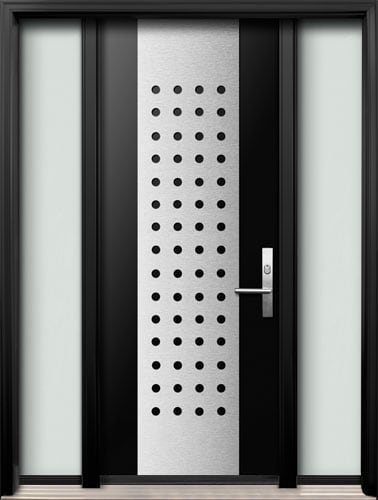 An exterior entry door from our Architrec collection will successfully complement the overall appearance of your residence.
Perforations can absolutely transform the look of a solid stainless steel panel! An entry door with such a fancy addition placed in the center over the full height of the door will give the entrance an enticing 3D appearance. This design is also available with glass-at night time it will create a very special effect at your entryway by letting your home light gleam to the outside through the multiple circle glass inserts.
Available with smooth or wood grain finish.
Features
Lock handles
Pull-bars
Colours
[[[["field22","equal_to","Single"]],[["show_fields","field15"]],"and"],[[["field22","equal_to","Single + 1 sidelite"]],[["show_fields","field16"]],"and"],[[["field22","equal_to","Single + 2 sidelites"]],[["show_fields","field17"]],"and"],[[["field22","equal_to","Double"]],[["show_fields","field18"]],"and"],[[["field35","equal_to","Smooth Finish - Choose a Custom Paint"]],[["show_fields","field33"]],"and"],[[["field35","equal_to","Wood Grain Finish - Choose a Custom Stain"]],[["show_fields","field34"]],"and"],[[["field38","equal_to","Yes"]],[["hide_fields","field35,field22,field15,field16,field17,field33,field18,field19,field34,field20,field37,field21,field23,field24,field36"]],"and"]]
keyboard_arrow_leftPrevious
Nextkeyboard_arrow_right
Available in Steel and Fiberglass